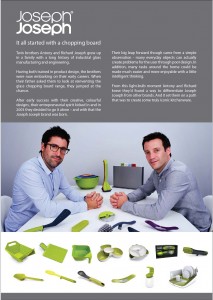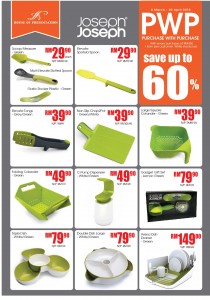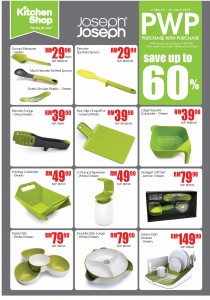 Now you can own your Joseph Joseph product with special promotion Purchase With Purchase from House Of Presentation / Kitchen Shop and save up to 60%.Promotion valid till 30th April 2015. Click HERE to find our nearest House Of Presentation / Kitchen Shop Outlet to you.
History Of Joseph Joseph
Having both trained in public design, the brothers were now embarking on their early careers. When their father asked them to look t reinventing the glass chopping board range, they jumped at the chance.
After early success with their creative, colourful design, their entrepreneurial spirit kicked in and in 2003 they decided to go it alone- and with that the Joseph Joseph brand is born.
Their big leap forward though came from simple observation – many everyday objects can actually create problems for the user through poor design. In addition, many tasks around the home could be made such easier and more enjoyable with a little intelligent thinking.
From this light-bulb moment Antony and Richard knew they'd found a way to differentiate Joseph Joseph from other brands. And it set them on a path that was to create some truly iconic kitchenware.