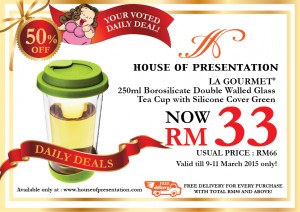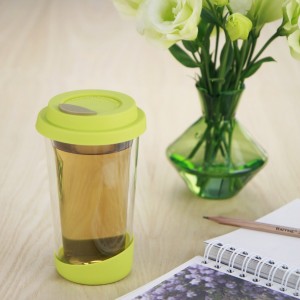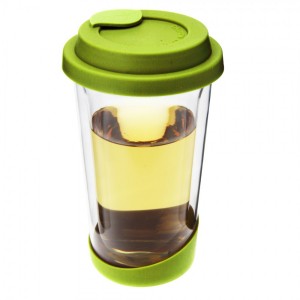 50% OFF – Daily Deal – La gourmet® 250ml Borosilicate Double-walled Glass Tea Cup With Silicone Cover (Green)- Valid Till 11 March 2015
Glass is Pure and Beautiful, Glass is Hygienic Lifestyle.
With a passion for things pure and beautiful La gourmet® proudly present  Tea & Coffee by La gourmet® to all who loves to drink tea & coffee andeven just plain water. La gourmet® uses not just glass but borosilicate glass which is known for very low coefficients of thermal expansion, making the Tea & Coffee Collection resistant to thermal shock, more so than any common glass.
Product Description
Use and Care :
– La gourmet Tea and Coffee Collection, made from borosilicate glass is very heat resistant.
– As the glass is clear, cleaning is easy as at a glance you can see if it is clean or not. Water and a mild liquid soap is sufficient.
– Glass is not porous and does not retain any previous tastes after washing.
– For Long Lasting Beauty and Durability : –
* Do not immerse a boiling hot teapot into very cold water. Dropping the teapot onto a hard surface will also cause breakage despite borosilicate glass high durability. If the Tea & Coffee item does break, it does not shatter like normal but crack separates into large pieces.
Click HERE to purchase from our online store houseofpresentation.com .