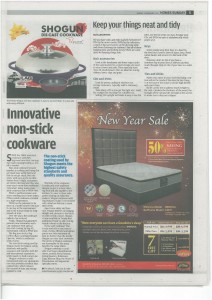 Shogun Die-cast Cookware
Since the 1960's non stick cookware with FDA-approved non-stick coatings has made cooking healthy as less oil is needed. Non-stick cookware became popular as cooking and frying fish are made as the food and fish do not get stuck. Over the years, with easy access to information on Google,consumers are better informed and they also want much more from cookware. Consumers today want a non-stick cookware that is PFOA-free.
PFOA or perfluoroctanic acid starts emitting toxic fumes when PFOA-coated cookware is heated to a high temperature. PFOA has the potential to be more of a health concern because it can stay in the environment and in the human body for long periods of time.
Over the years, the cookware industry has evolved. Today ,Shogun by La gourmet presents new innovation with cats cookware with special non-stick coating Ilag AG, Switzerland, which is PFOA- free.
The Ilag non-stick is Ilag Corflon ( basic) and Ilag Dynamic ( Special ),which is reinforced with ceramic. The non-stick coating used by Shogun meets the highest safety standards and quality assurance and complies with EU and international regulations with regards to food contact use.
Shogun cookware is well-constructed with cast aluminium core that provides excellent heat conductivity, which reduces the amount of time and energy needed to cook.
The body of the cookware is embossed with sunflower design to give it a more alluring look and add sparkle to the kitchen. To cater to those who prefer cooking, Shogun cookware with Ilag Dynamic range is constructed with induction bottom to meet their needs.
Apart from safety and function, Shogun believes in bringing delight and pleasure to the kitchen with trendy colours. Shogun is now available in Trendy Red and Royal Purple to add exciting trendy colours to the kitchen.
If you want cookware that is easy and safe to use, easy to clean,energy-efficient and allows you to use only minimum oil, look no further than the trendy Shogun cast non-stick cookware.The prices of Shogun cookware  are reasonable for the many benefits the range offers.
Shogun cookware is available in all major departmental stores, namely Aeon , Parkson, Living Quarters, Robinsons, Sogo, Kitchen Shop, the House Of Presentation and La gourmet specialty stores.
Click HERE  to purchase Shogun non- stick cookware from our online store houseofpresentation.com.