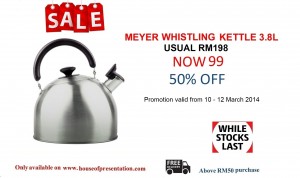 Daily Deal Promotion – 50% OFF- MEYER WHISTLING KETTLE 3.8L – Offer Valid until – 12 March 2014
Hot water is indispensable every morning. Make sure you have enough supply with the Meyer Whistling Kettle.
This Meyer Whistling Kettle has a capacity of 3.8 liters – more than enough for your morning coffee and to take out the cold on your bath water. Made of stainless steel, you are assured of its durability. The exterior of the kettle is stain-resistant and easy to clean. The kettle is hygienic and maintenance-free, so you can use it over and over again with worrying about germ build-up. The non-scratch base is induction stove ready, so no matter what kind of stove you have at home; you can use this kettle without any problems.
Click HERE to view the item details –> http://goo.gl/WJpWxN