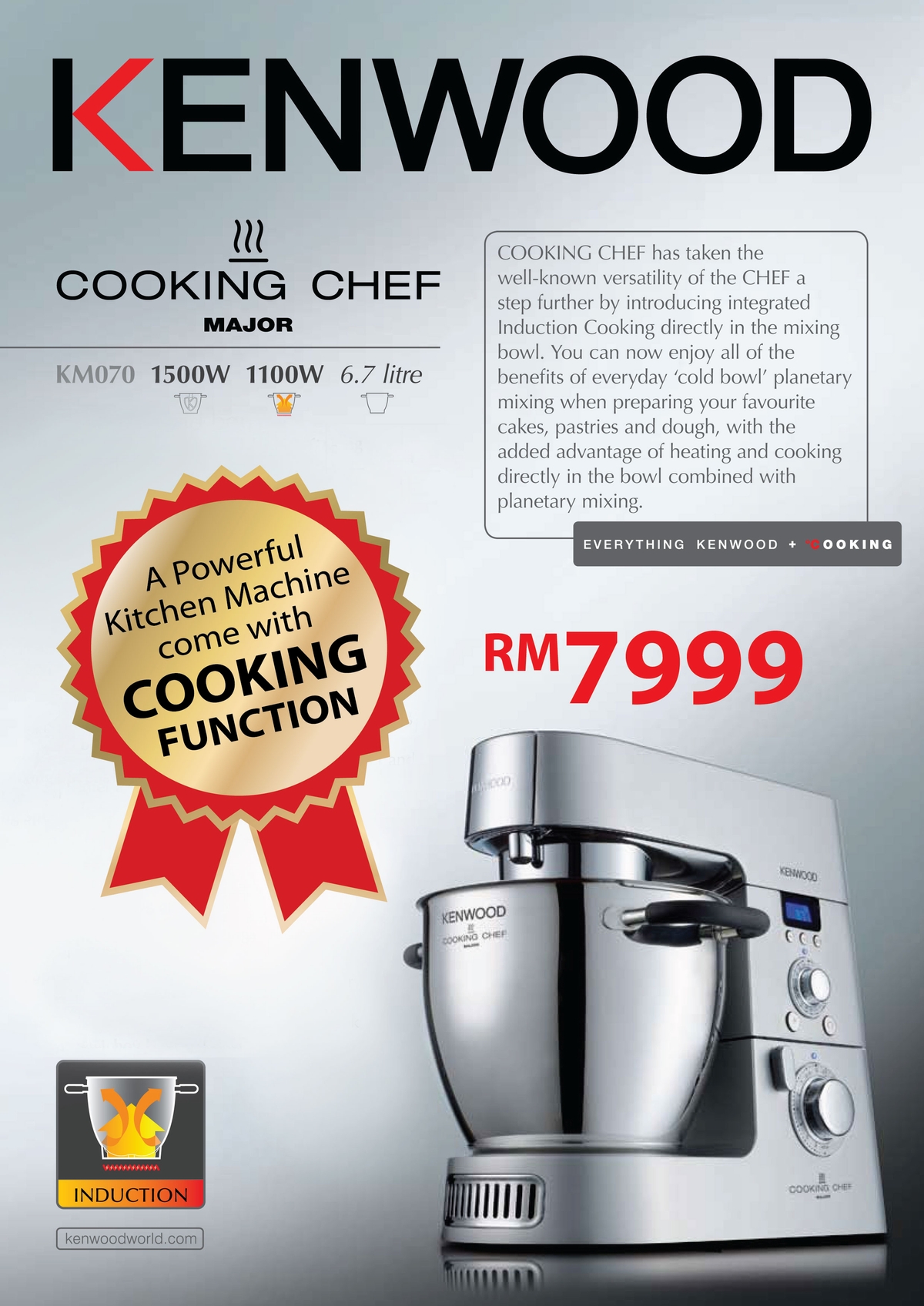 The new Kenwood Cooking chef has taken the well-known versatility of the CHEF a step further by introducing integrated Induction Cooking directly in the mixing bowl. You can now enjoy all of the benefits of everyday 'cold bowl' planetary mixing when preparing your favourite cakes, pastries and dough, with the added advantage of heating and cooking directly in the bowl combined with planetary mixing.
Take a look at the key features and benefits of your new assistant in the kitchen.
* Powerful 1500W Planetary Mixing.
* 1100W Induction cooking system cooks directly in the mixing bowl.
* Large 6.7L bowl capacity with 3L cooking and mixing capacity – large capacity is perfect for families and entertaining.
* 20°C to 140°C temperature setting – accurate variable control for gentle warming to real cooking function. For proving dough to tempering chocolate, to making fudge.
* Continuous cooking and mixing function – a controlled stir or mix can be selected whilst cooking freeing time.
* Induction heating element – a safe, energy efficient and very controllable heat provides trust and great results.
* Display – Timer ranging from 5 seconds to 3 hours counting down or up – and temperature setting.
* New and unique bowl tools for mixing and cooking.
* 8 mixing speeds. Variable speed control – with slow speed stirring and a new intermittent stirring. keeping the consistency in your food without breaking it down.
Food processor attachment included – with robust stainless steel chopping, slicing and shredding blades. Stainles steel blender attachment – included in pack with 1.5L high capacity is perfect for blending soups, purees or crushing ice.
Safety interlocks on bowl, splashguard, head lift, outlet covers and heating function – for confident and intuitive operation.
Steam basket – Fits on top of the bowl and can be used in the same way as a conventional steamer for vegetables, chicken, seafood and desserts.
This item can be now purchased at the special price of RM7999 from the following sales channels: