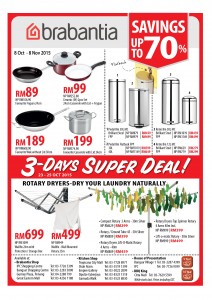 Savings Up To 70% OFF – Brabantia Special Promotion – Valid Till 8th November 2015
HISTORY
And today we design products for the present, but with an eye to the future…
FROM THEN TILL NOW.
Brabantia was founded in 1919 by a group of 15 people in the small Dutch town of Aalst. We've always been a family company that believes in creating products that are made with integrity by people who care about quality. Ideas that are made to last – and designed for living.
Our journey:
1919 We started as Van Elderen & Co in Aalst Netherlands and began by producing milk cans, jugs, sieves and funnels.
1930 We diversified into making Radio casings for Philips.
1945 After the war we helped to recycle old milk powder tins into cups. Even then we were thinking about recycling.
1955 A landmark moment – our first solid range of pedal bins were launched.
1970 Our iconic Patrice pattern was launched
.
1975 We introduced a high tech water cleaning system to our production.
1980 Expansion of our sales across Europe.
1985 The launch of our famous plastic corkscrew. To date, millions have been sold.
1997 We introduced 'Solid company' messaging to our brand.
1999 Our first waste bins featuring Touch Bin technology were launched.
2006 The launch of Wall Fix dryer, a compact space-saving dryer.
The introduction of solar power to our factories.
2011 The opening of our first concept store.
2014 The launch of our new vision – 'Designed for living'.
Promotion Available at Brabantia , Kitchen Shop , House Of Presentation and BBQ King outlet.
Click HERE to find our nearest outlet to you.