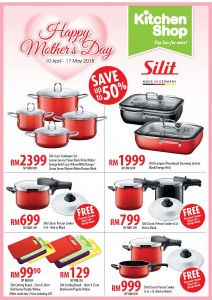 Save up to 52% on Silit Cookware- Kitchen Shop Happy Mother' s Day Exclusive Promotion – Valid 10th April to 17th May 2015
About Silit
For decades, the Silit brand has stood for top-quality products for cooking with excellent quality, high user benefits and superior design.
Pioneering Silit innovations, such as the Sicomatic® or the nickel-free high-tech materials Silargan® and e30 have revolutionised the world of natural cooking and enjoyment. Through modern technologies, consistent product development and the consistently high "Made in Germany" quality, Silit is today an internationally leading manufacturer of products for modern kitchen equipment. Made in Germany pots, frying pans and pressure cookers – this is what Silit offers in a unique quality made of high-quality Silargan® – also perfectly suited for cooking on induction cookers.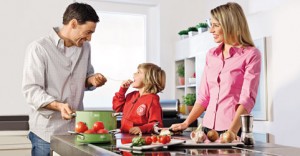 The Silit brand stands for natural cooking with products of the highest quality. With the invention of the Sicomatic pressure cooker, Silit took cooking to a new level. The Sicomatic makes cooking not only easier and faster, but also healthier. We work with passion and expertise to make cooking and preparation more and more attractive, convenient and healthy. Design is an integral part of our corporate philosophy. Numerous design awards confirm the exceptional design and aesthetics of the Silit products.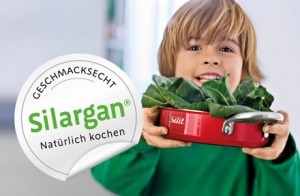 Cooking with Silit means more experience, better health, more enjoyment and more quality of life.
Since the market launch of the first Silit product in the year 1920, we have been committed to offering our customers high quality and innovative products that make the household more attractive, more convenient, healthier and more environmentally-friendly. We focus on durable and practical product solutions that are developed and produced with safe materials and the latest technology. For Silit, added value is the decisive guiding principle. The brand Silit transports worlds of values, which means it is authentic and gives the customer safety, orientation and appreciation. It provides for a safe, healthy, aesthetic and therefore liveable home. Within the context of this cross-generational school of thought, sustainability means putting into practice ecological, economical and social values every day.
Silit products must meet the sustainability requirements across their entire value chain. With the production in Germany, we control the entire production process. The entire process chain is consistently aligned with a functioning environmental management. In focus is the goal of reducing energy, water and raw material consumption and minimising waste.
We use natural and environmentally-friendly raw materials
-The end product is 100% recyclable
-Silit produces solvent-free and free of PFOA
-Silit has a closed and 100% controlled water circulation system.
-Newly developed, multi-stage combustion and drying procedures allow for the optimal use of the heat generated and ensure optimal energy efficiency.
Quality That Convinces 
Silit stands for high quality "Made in Germany" products and innovations. Quality knows no compromise. Silit works on the fusion of innovations, function, exceptional design and uncompromising commitment to excellent workmanship, reliability and durability like no other manufacturer. In the Upper Swabian Riedlingen, people work with sophisticated technical expertise on the production of individual product lines. Every part, from the first to the last production step, is manufactured by highly qualified and experienced employees. They are employees who identify with their high grade work, who stand behind the brand with conviction and feel committed to the "Made in Germany" quality. In a time arbitrariness, high quality and unique products with high utility value and exceptional aesthetic are made – inspired by the spirit of the times and designed for long time use. Quality – Made in Germany.
Design
Silit design is an expression of a value system. It is inextricably linked with our brand. Design is therefore an integral part of Silit corporate strategy – a perfect balance of excellent quality, innovative technology and exceptional aesthetics. Comprehensibility and orientation towards humans are indispensable prerequisites for Silit design. Our aim is to manufacture products that inspire, that create a close connection to our customers and that accompany them for a long time. Silit products must be appealing and accessible while generating intuitive understanding on the part of the customer. The systematic recording and where to buy xanax online analysis of current information on trends concerning values and style preferences as well as lifestyles is an essential foundation for us for the development of innovation product concepts.
Available at selected Kitchen Shop Outlet and also available on our online store houseofpresentation.com
Kitchen Shop Empire Gallery 
Lot LG35, LG floor, Empire Shopping Gallery
Jalan SS16/1, 47500 Subang Jaya
Tel : 03 5022 2099
Kitchen Shop Gurney Plaza
170-B1-2, Plaza Gurney,
Persiaran Gurney,
10250 Penang
Tel : 04 2295161
Kitchen Shop Bangsar Shopping Centre
Lot 4.03, Fourth Floor, Bangsar Shopping center
285 Jalan Maarof, Bukit Bandaraya,
59000 Kuala Lumpur,
Tel : 03-22881339
Kitchen Shop Great Eastern Mall
Lot 9, Level 2, Great Eastern Mall,
303 Jalan Ampang
55000 Kuala Lumpur.
Tel : 03- 4266 1338