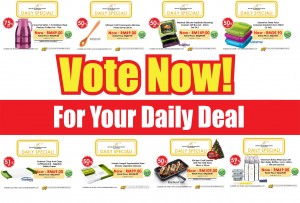 Want your item to be featured in next Daily Deal? What are you waiting for? Come and vote now! Click HERE.
How it works ?
1- Using this option you may have the chance to get your favourite item to be featured on the next upcoming Daily Deal promotion.
2- The item with highest ranking score will be chosen as the next Daily Deal special promotion. However we have the right to change the item if it is out of stock with the second highest voted item.
3- The voting system will be open from 8am – 4pm (Mon – Fri).
4- The chosen deal will be featured on the following Monday for 3 days.
How To Vote Daily Deal ?
1- Click any of the categories that you will like to be featured in the next Daily Deal.
2- Click on the product image to view the listing details of the item.
3- Click " Add to Daily Deal Vote".
4- You will be directed to the voting page after you click OK.
5- Click your item and vote.
6- The voting percentage will be shown. To increase the voting percentage please click " Share It " icon to share with your friends.