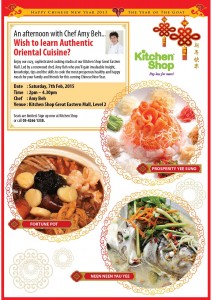 Kitchen Shop Oriental Cuisine with Chef Amy Beh – 7th Feb 2015 – Great Eastern Mall- 2.00pm
Wish to learn authentic oriental cuisine? Enjoy our cozy, sophisticated cooking studio at our Kitchen Shop, Great Eastern Mall. Led by a renowned chef. Amy Beh who you'll gain invaluable insight, knowledge, tips and the skills to cook the most prosperous healthy and happy meals for your family and friends for this coming Chinese New Year.
Seats are limited. Sign up now at Kitchen Shop or call 03-42661338.
Date: 7th Feb 2015
Venue: Great Eastern Mall
Time: 2.00pm – 4.30pm
Chef Amy Beh Profile
Amy Beh is a recognize personality in the Malaysian scene. She is celebrity chef, food communist,cookbook author and culinary consultant to many multinational companies.
Amy is the author of three very popular cookbooks, At Home With Amy Beh 1, At Home with Amy Beh 2 and At Home With Amy Beh 3. She has regular weekly column in the STAR newspapers as well as in the STAR Online Cyberkuali. She has appeared in cooking series on television and gone on oad shows.
She has been invited on many occasions to sit on the distinguished Judging Panel Of International Culinary Competitions, including Culinary Malaysia and Penang's Battle of the Chefs. She has twice (2001 & 2005) gone under the auspices of the Hong Kong Tourism Board (HKTB) as the Malaysians Food Ambassador. She is also one of the Judging Panel Of The Best Of The Best Culinary Competition Hong Kong in 2005. The art of cooking to Amy is to be able to use common ingredients in easy ways that taste the same as in " grandma's kitchen".