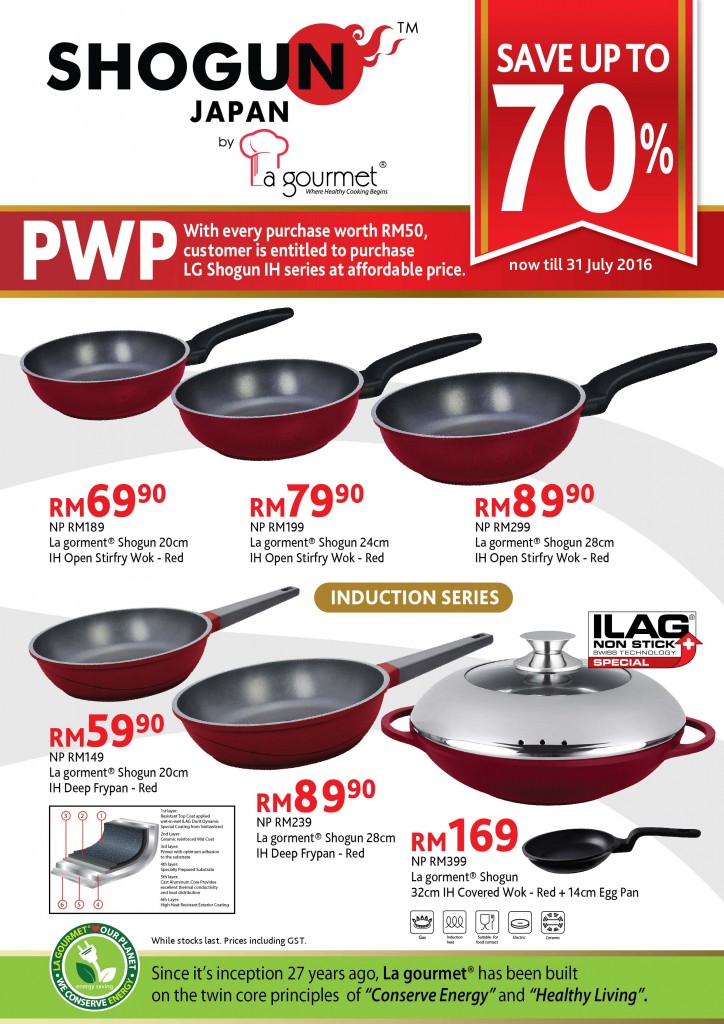 Save Up To 70% -PWP with every purchase worth Rm50 – Now till 31 July 2016
With every purchase worth Rm50, customer is entitled to purchase LG Shogun IH series at affordable price.
It isn't easy to choose the right cookware. Beside figuring out which material offers the most versatility, you must be sure the pots and pans are well-designed and safe to use. Several hallmarks distinguish good durable cookware from inferior brands.
– Cookware should be well balanced and sturdy enough to prevent denting and warping with ordinary use.
– The bottoms should be flat, to spread heat evenly.
– Handles should be strong enough to support the pan and comforatble to maneuver.
– Lids should fit snugly onto the pan to avoid rumbling during cooking.
WHY BUY A SHOGUN BY LA GOURMET®?
– Extremely durable
– Low fat healthy cooking
– Food safe
– Allows acidic cooking
– Stick free cooking
– Saves cooking time and energy
– Flat base
Why Buy La gourmet® Shogun
Since the inception La gourmet® was built on the twin core principles of ' Conserve Energy ' and ' Healthy Living'.
Shogun by La gourmet® gives you the Assurance of Safety and a guarantee of a finely crafted cookware that provides convenience and healthy cooking.
Benefits
– Low fat healthy cooking
Cooking is healthier due to using less oil.
– Food Safe
Shogun by La gourmet® cookware is certified safe for food contact use.
– Saves cooking time and energy
Shogun by La gourmet® excellent heat distribution reduces cooking time and save energy .
Use and Care
– To prolong the lifespan of Shogun Please
1 – Do not use the high heat persistently. Use the high heat the start and end of cooking. In between cooking process, please use low to medium heat
2- Do not use high heat on empty pan.
3- Please use kitchen towel to clean and warm water to rinse before cooking the next dish. Allow pan to cool before immersing in water.
– For cleaning only use a nin abrasive sponge with cleaning fluid.
– Only use nylon or silicone kitchen tools to avoid scratching the non stick cookware.
Available at all Kitchen Shop and La gourmet outlet. Click HERE to find our nearest outlet to you.