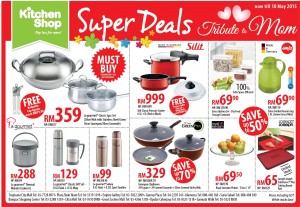 Save Up to 70% OFF – Kitchen Shop – Super Deals Tribute To Mom Promotion – Valid till 10th May 2015 
Save up to 70% on Greenpan Claybrown + 24cm Covered Casserole + 28cm Covered Stirfy Wok
Our health is the most precious thing we have. GreenPan™ is passionate about healthy cooking. We launched our ceramic coated pans in 2007, and have seen millions of consumers joining the ceramic revolution. GreenPan™ has changed the material which families across the amb online usa globe cook with, and will continue to invest in healthy technologies.
Cooking and eating has become so much more than fulfilling a primal need. People have become aware of what they are eating and cooking has become more than preparing food. We make great non-stick pans that allow you to prepare great tasting dishes.
Starting in 2007, GreenPan™ was the first to introduce ceramic non-stick cookware into the market. GreenPan™ with Thermolon™ ceramic non-stick has given customers a whole new option when it comes to healthy cooking. Today, GreenPan™ products can be found in retail, department, hardware, grocery, mass market and specialty stores in over 100 countries around the world.
Promotion available at all Kitchen Shop Outlet. Click HERE to find nearest Kitchen Shop Outlet to you. Also available on our online store houseofpresentation.com.