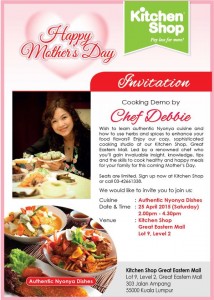 Kitchen Shop Happy Mother's Day Special Cooking Demo Invitation by Chef Debbie for Authentic Nyonya Dishes -Join us on 25th April 2015 (Saturday) at Kitchen Shop, Great Eastern Mall
Wish to learn authentic Nyonya cuisine and how to use herbs and spices to enhance your food flavors? Enjoy our crazy, sophisticated cooking studio at our Kitchen Shop, Great Eastern Mall. Led by a renowned chef who you'll gain invaluable insight, knowledge, tips and the skills to cook healthy and happy meals for your family for this coming Mother's Day.
Seats are limited.Sign up now at Kitchen Shop or call 30-42661338.
We would like to invite you to join us :
Cuisine :
Authentic Nyonya Dishes
Date and Time :
25 April 2015 ( Saturday)
2.00pm – 4.30pm
Venue :
Kitchen Shop
Great Eastern Mall
About Chef Debbie
With more than 10 years experience in the food industry, Debbie Is a true bred Nyonya who hails from Malacca, whose father is a baba from Malacca & mother a Nyonya from Penang. Author of numerous cookbooks, "UNDERWRAPS" by Marshall Cavendish Cuisine, Penang Food guide & cookbook by Star Publications & "Nyonya Flavours" by Star Publications.
Debbie also develops & tests recipes for companies, is a contributor for magazines such as Feminine by Oriental Cuisine & Flavours by Star Publications. She is also a Nyonya Food Consultant for Tourism Malaysia.
Her forte is Nyonya Cuisine for both northern and southern Nyonya. Has vast experience in Thai, Vietnamese, Indonesian & western cuisine for both cooking & baking.
In between writing, Debbie caters for private functions, birthdays, weddings and anniversaries. Do 3D (dimensional) cakes, has a variety of about 20 nyonya kuehs, bakes biscuits for sale during festivities like Chinese New year, Hari Raya, Christmas & Deepavali.
SUCCESSFUL street food hawkers seldom reveal their winning recipes
Click HERE to continue read more about Chef Debby.
Get to know our sales, promotions and latest news by joining our NEWSLETTER.