Thermal Cooking Fair "Parade Of Colors With La gourmet Thermal Cooker"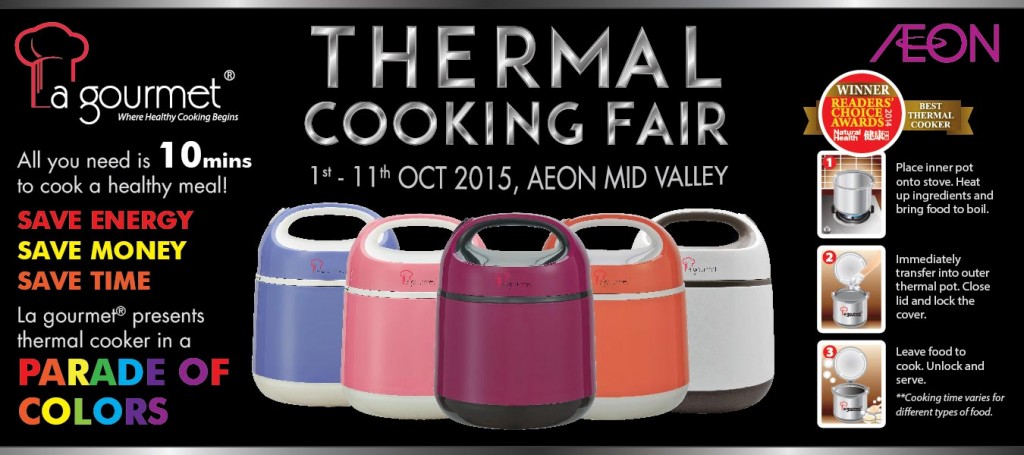 Join us at thermal cooking fair "Parade Of Colors With La gourmet Thermal Cooker" .Promotion starts from 1st October till 11th October 2015. Special feature cooking demo by Chef Sherson.
Crowned by talent as ' Our very own naked chef', Sherson Lian is not just a chef but also a talent in a variety of disciplines from presenter, host, emcee to singer.
With enormous posotive reception from the show, Sherson's fame was shot internationally. He was handpicked by AFC and Philippines Tourism Board to host and judge tge international programme " Amazing Foof Challenge: Fun in the Phillippines", Season 1&2. Since then, he has been making prominent appearances acroos othercountries – Australia, Hong Kong, Taiwan, Indonesia and etc.
Thermal Cooking fair – Parade Of Colors With La gourmet Thermal Cooker
Promotion Period : 1st October – 11th October
Outlet : AEON Midvalley
Cooking Demo by Chef Sherson
Date : 4th October 2015 (Sunday)
Time : 11am – 1pm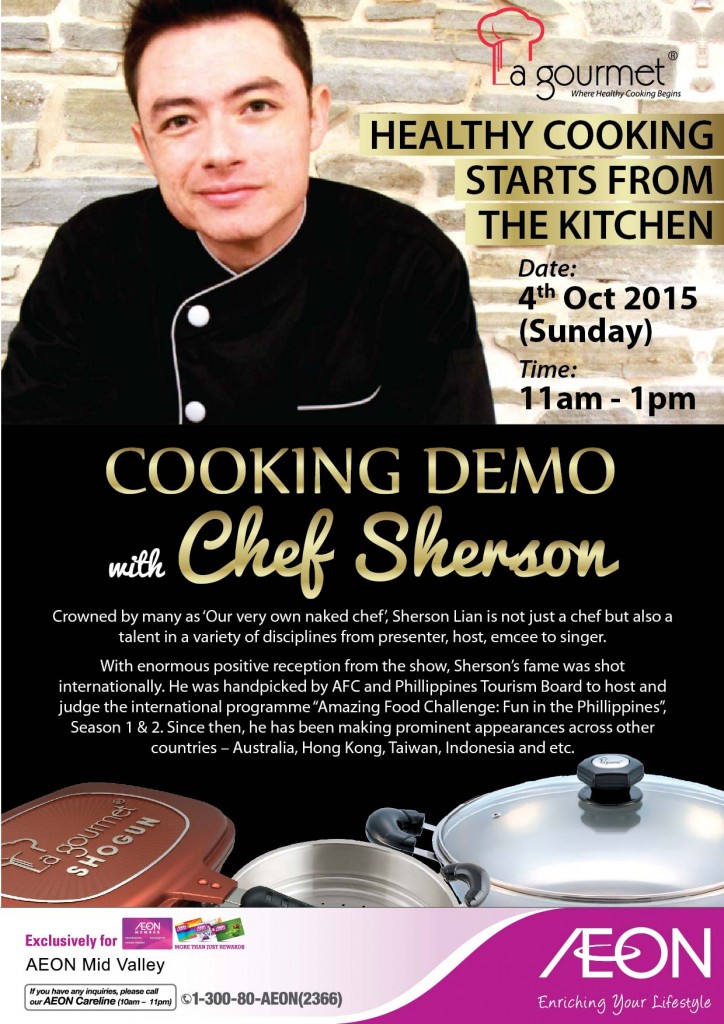 About Chef Sherson Lian
Sherson Lian would have never imagined himself to be a TV Personality or a Celebrity Chef. This humble young man still counts his success to be a gift from God, and of course a love for food. Sherson had humble beginnings and adversity as a teacher. His start in the food industry was when his family was hit by the 1997 economy crisis. To supplement the family income Sherson's mother opened a little cafe in Faber Tower in Old Klang Road called Paradise Cafe. Sherson as the oldest helped with the preparations of the food. As there was no kitchen in the cafe everything has to be done at home and though at 10 he found the task arduous he picked up his love for food in those times. Business picked up for that little cafe which then became a restaurant. And this was where he learnt the trade of running a restaurant but more importantly this was where he learnt to cook and fell in love with cooking.
In 2003 after SPM he enrolled in the 'school of life' going into the family's restaurant full time. A year later he enrolled in Taylor's College for their six-month Hotel Industry Apprentice course which placed him in the JW Marriott where he worked in difference kitchens.
He would later join his family's move back to their home town of Malacca when his dad decided to part ways with his business partner and open and operate a camp ground facility. Sherson found himself partnering with his mom serving sumptuous meals to campers that tasted heavenly servings of food at the hands of Sherson and his family.
It was during the service of one of the meals a consultant for 5 Rencah 5 Rasa (the show which Sherson is hosting currently) asked him if he would be willing to be a host in the show. Enthused about the opportunity, he went for it snagging the part. From there he has gone on the host 5 rencah 5 Rasa, Cipta Rasa Ramadan, the Asian Food Channel's Great Dinners of the World, is the brand ambassador for Dutch Lady Family Milk Powder, and has two cook books published. Sherson has also opened up an eatery with fellow host of Great Dinners of the World – Johnny Fua. Elegantology Gallery & Restaurant is a men's boutique and restaurant located in Publika, Solaris Dutamas. In 2012 he set up a consultancy called Cookery Chemistry Solution handling everything with food from restaurants, to food consultancy and shows. With all the success he has had at 29 he still remains humble and down to earth grateful for each success he has achieved.