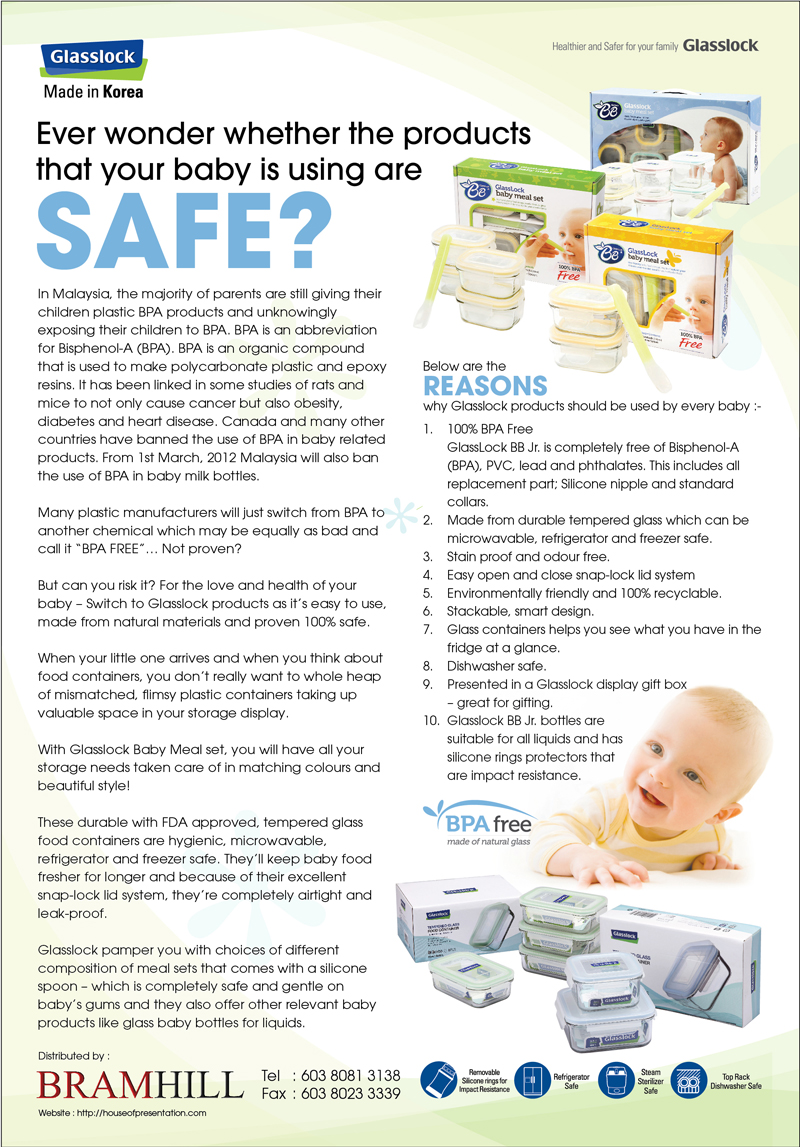 Ever wonder whether the products that your baby is using are safe?
In Malaysia, the majority of parents are still giving their children plastic BPA products and unknowingly exposing their children to BPA. BPA is an abbreviation for Bisphenol-A (BPA). BPA is an organic compound that is used to make polycarbonate plastic and epoxy resins. It has been linked in some studies of rats and mice to not only cause cancer but also obesity, diabetes and heat disease. Canada and many other countries have banned the use of BPA in baby related products. From 1st Match 2012 Malaysia will also ban the use of BPA in baby milk bottles.
Many plastic manufacturers will just switch from BPA to another chemical which may be equally as bad and call it "BPA FREE"…Not proven?
But can you risk it? For the love and health of your baby – Switch to Glasslock products as it's easy to use, made form natural materials and proven 100% safe.
When your little one arrives and when you think about food containers, you dont really want to whole heap of mismatched, filmsy plastic containers taking up valuable space in your storage display.
With Glasslock Baby Meal set, you will have all your storage needs taken care of in matching colours and beatiful style!
These durable with FDA approved, tempered glass food containers are hygienic, microwavable, refrigerator and freezer safe. They'll keep baby food fresher for longer and because of their excellent snap-lock lid system, they're completely airtight and leak-proof.
Glasslock pamper you with choices of different composition of meal sets that comes with a silicone spoon – which is completely safe and gentle on baby's gums and they also offer other relevant baby products like glass baby bottles for liquids.
Below are the Reasons
Why Glasslock products should be used by every baby:-
1. 100% BPA Free Glasslock BB Jr. is completely free of Bisphenol-A (BPA), PVC, lead and phthalates. This includes all replacement part; Silicone nipple and standrard collars.
2. Made from durable tempered glass which can be microwavable, refrigerator and freezer safe.
3. Stain proof and odour free.
4. Easy open and close snap-lock lid system.
5. Environmentally friendly and 100% recyclable.
6. Stackable, smart design.
7. Glass containers helps you see what you have in the fridge at a glance.
8. Dishwasher safe.
9. Presented in a Glasslock display gift box- great for gifting.
10. Glasslock BB Jr. bottles are suitable for all liquids and has silicone rings protectors that are impact resistance.