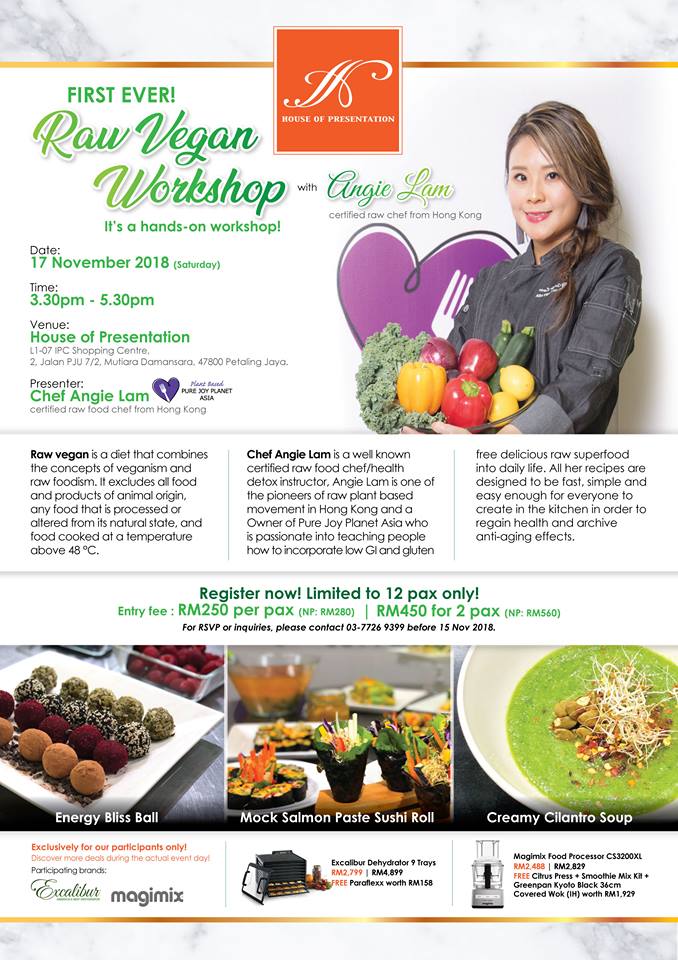 Experience a first ever raw vegan hands-on workshop with our certified raw chef from Hong Kong, Chef Angie Lam in House of Presentation, IPC Shopping Centre. Join us to reveal more crazy exclusive promotion for our participants only.
For RSVP or inquiries, please contact 03-7726 9399 latest by 15 Nov 2018. See you there!
Date : 17 Nov 2018
Time : 3.30pm – 5.30pm
Venue : House Of Presentation
L1 – 07  IPC Shopping Centre
2, Jalan PJU 7/2 , Mutiara Damansara , 47800 Petaling Jaya
About Chef Angie Lam
Biography of Angie Lam:
Raw food instructor/consultant
Private vegan chef
Health detox coach
Health product specialist
Anti Aging consultant
Dental Hygienist
Angie is one of the pioneers of the raw food movement in Hong Kong. As a vegetarian for over 20 years, She often shares her low GI and gluten-free nutritious gourmet raw food with mass media and at public events. Her fun and interactive teaching empowers people to ambien list online regain health and achieve anti-ageing effects by incorporating living raw food into daily diet and adopting an environmentally friendly lifestyle.
Profile :
A well-known certified raw chef / health detox instructor in Hong Kong, Angie Lam graduated from Pure Joy Culinary Academy, a renowned raw food institute in the US. Angie gives frequent interviews and is often featured in local newspapers, magazines, TV and public events. She was even invited to consult and host the first Raw Food Festival in 2014, setting the trend of the raw food diet and healthy eating in Hong Kong. As a private chef and health consultant for celebrities, she helps people look younger and feel great by incorporating living, low GI and gluten free superfood into the daily diet and adopting an environmentally friendly lifestyle.
Angie published the first bilingual raw food recipe book "Raw in the City" in 2015. The book became so popular that the first edition was sold out in two months. It is no surprise that her book was then nominated for the Hong Kong Golden Book Awards in 2015. Furthermore, due to her expertise in raw food cooking, Angie was also invited as a celebrity guest on ShowMuse, a web-based teaching video channel endorsed by Science Park.
When it comes to promoting healthy eating and building a business in the health & wellness industry, Angie Lam is no stranger. She co-founded Superfoodsmart.com and brought quality superfood products directly from Mexico, Peru and Southeast Asia. Direct trading not only benefits the growers and consumers, but also minimises the carbon footprint. With a big vision of spreading a healthy vegan lifestyle, she partners with Green Monday to deliver educational talks and conduct demonstrations in different locations, including mega Japanese department store SOGO, CitySuper supermarket chain, and others. Angie has been invited by the U.S. Consulate of Hong Kong and Macau to design a vegetarian menu for the consulate cafeteria, in aid of their promotion of a healthy diet. In addition, she is also the spokesperson and product specialist for La Tierra Organic, Vitamix Total Nutrition Centre and Excalibur Dehydrator.