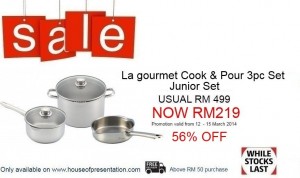 Daily Deal Promotion – 56% OFF – La gourmet® Cook & Pour 3 pc set – Junior set – Offer Valid Until 15 March 2014
Cook & Pour Series Cookware
With the blending of advance technology and modern design, La gourmet® "Cook & Pour Series" brings to you a range of cookware which is not only of superior quality but adds to your cooking convenience. Its unique pourspout and colander cover allows for easy pouring, straining and helps to avoid spills.
Encapsulated Bottom
The 3mm 3ply encapsulated bottom has an aluminium core to ensure that the heat spreads evenly and thoroughly. This allows you to save time & energy as your food is cooked faster.
Marks of Quality
It isn't easy to choose the right cookware. Beside figuring out which material offers the most versatility, you must be sure the pots and pans are well-designed and safe to use. Several hallmarks distinguish good durable cookware from inferior brands.
Why choose 18/10 stainless steel
Because of its suitability for any kind of cooking method and any type of ingredient, stainless steel is the most versatile all purpose cookware material.
Stainless steel especially 18/10 with its higher nickel content is nonporous and nonreactive; that is, it doesn't corrode when it comes into contact with acidic ingredients such as lemon juice, tomatoes or wine, vinegar nor does it gives an off-taste to foods.
Stainless steel is durable, resists denting and scratching and holds its shine even after years of cleaning.
Click the link to view the daily deal promotion –> http://goo.gl/XHKO0l