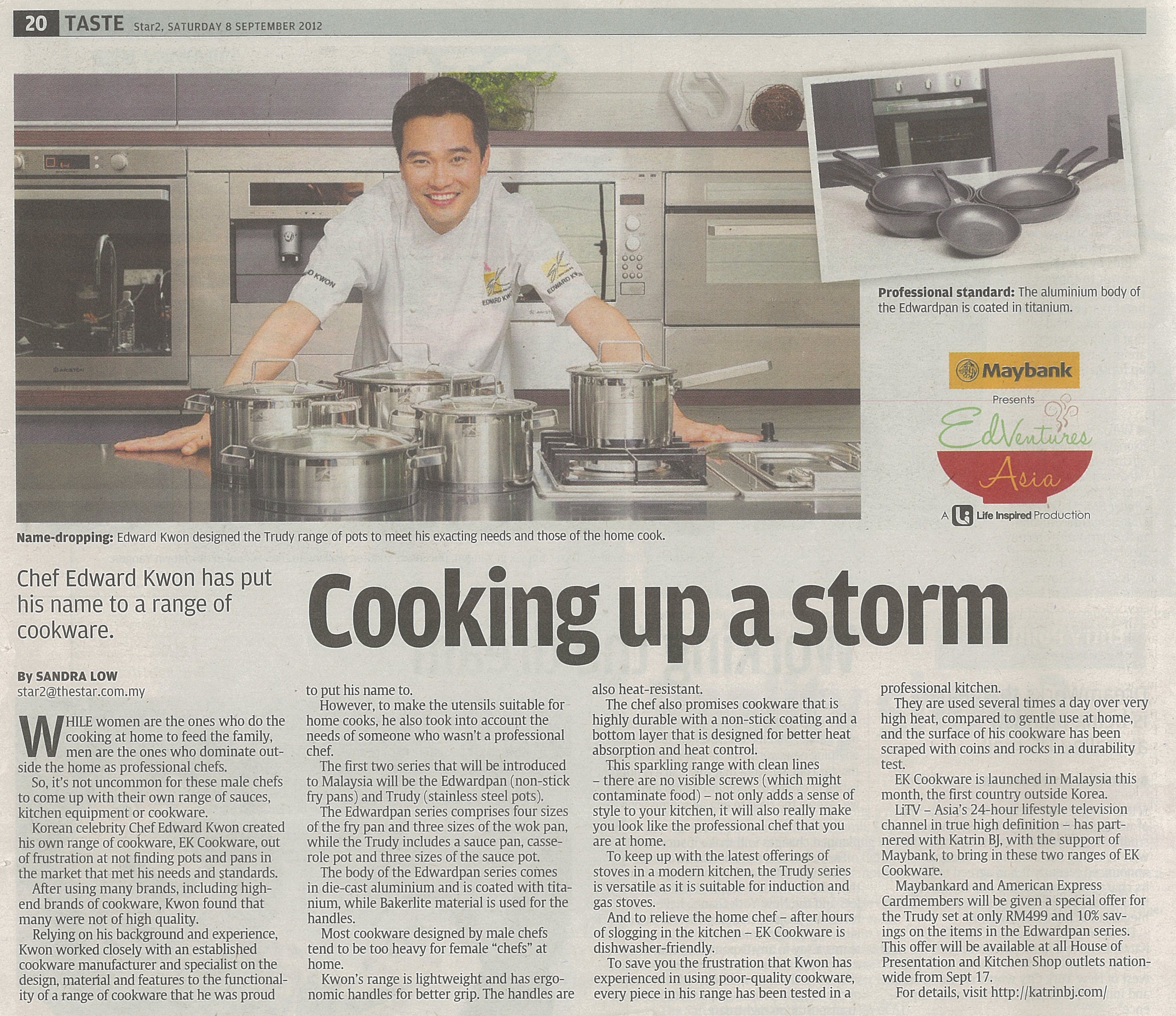 click the image for large view
Chef Edward Kwon has put his name to a range of cookware.
WHILE women are the ones who do the cooking at home to feed the family, men are the ones who dominate outside the home as professional chefs.
So, it's not uncommon for these male chefs to come up with their own range of sauces, kitchen equipment or cookware.
Korean celebrity Chef Edward Kwon created his own range of cookware, EK Cookware, out of frustration at not finding pots and pans in the market that met his needs and standards.
After using many brands, including high-end brands of cookware, Kwon found that many were not of high quality.
Relying on his background and experience, Kwon worked closely with an established cookware manufacturer and specialist on the design, material and features to the functionality of a range of cookware that he was proud to put his name to.
However, to make the utensils suitable for home cooks, he also took into account the needs of someone who wasn't a professional chef.
The first two series that will be introduced to Malaysia will be the Edwardpan (non-stick fry pans) and Trudy (stainless steel pots).
The Edwardpan series comprises four sizes of the fry pan and three sizes of the wok pan, while the Trudy includes a sauce pan, casserole pot and three sizes of the sauce pot.
The body of the Edwardpan series comes in die-cast aluminium and is coated with titanium, while Bakerlite material is used for the handles.
Most cookware designed by male chefs tend to be too heavy for female "chefs" at home.
Kwon's range is lightweight and has ergonomic handles for better grip. The handles are also heat-resistant.
The chef also promises cookware that is highly durable with a non-stick coating and a bottom layer that is designed for better heat absorption and heat control.
This sparkling range with clean lines – there are no visible screws (which might contaminate food) – not only adds a sense of style to your kitchen, it will also really make you look like the professional chef that you are at home.
To keep up with the latest offerings of stoves in a modern kitchen, the Trudy series is versatile as it is suitable for induction and gas stoves.
And to relieve the home chef – after hours of slogging in the kitchen – EK Cookware is dishwasher-friendly.
To save you the frustration that Kwon has experienced in using poor-quality cookware, every piece in his range has been tested in a professional kitchen.
They are used several times a day over very high heat, compared to gentle use at home, and the surface of his cookware has been scraped with coins and rocks in a durability test.
EK Cookware is launched in Malaysia this month, the first country outside Korea.
LiTV – Asia's 24-hour lifestyle television channel in true high definition – has partnered with Katrin BJ, with the support of Maybank, to bring in these two ranges of EK Cookware.
Maybankard and American Express Cardmembers will be given a special offer for the Trudy set at only RM499 and 10% savings on the items in the Edwardpan series. This offer will be available at all House of Presentation and Kitchen Shop outlets nationwide from Sept 17.
Article Source:
http://thestar.com.my/lifestyle/story.asp?file=/2012/9/8/lifeliving/11857836&sec=lifeliving