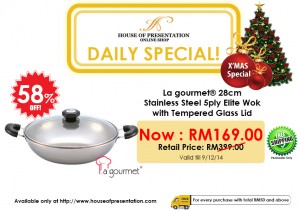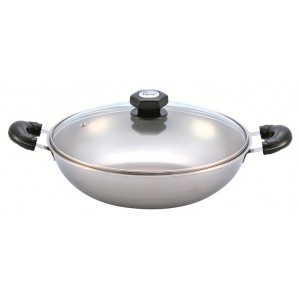 58% OFF – Daily Deal – La gourmet® 28cm Stainless Steel 5ply Elite Wok with Tempered Glass Lid – Valid Till 9 Dec 2014
Specification:
– 5ply fully clad 18/10 stainless steel from USA
– high quality 18/10 stainless steel in the inner pot and 18/10 stainless steel outer body for Induction cooking.
– steam release knobs
– Body 2.8mm
– suitable for gas, electric, ceramic and induction cookers.
– with stainless steel cover and steam release phenolic knob, bakelite handles
* Induction base
– Flat Bottom
All La gourmet 5-Ply clad stainless steel contains :
1st layer: 18/10 Stainless Steel
2nd layer: 1145 Pure Aluminium
3rd layer: 3004 Aluminium Alloy
4th layer: 1145 Pure Alluminium
5th layer: 18/10 Stainless Steel
Why is it important that the La Gourmet Wok is 5-Ply :
-Stainless Steel though hygienic, lacks good heat conducting qualities, so to be effective for cooking stainless steel must be combined with more efficient heat transmitting metals like aluminium or copper. La Gourmet 5-Ply 18/10 stainless steel wok has 3 layers of aluminium sandwiched in between the 18/10 stainless steel which enables the wok to have excellent heat conducting capabilities.
-Thus La Gourmet 5-Ply 18/10 Stainless Steel Woks has the versatility of stainless steel and aluminium's heat efficiency.
Click HERE to purchase from our online store houseofpresentation.com