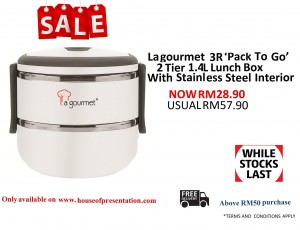 50% OFF – Daily Deal – La gourmet® 3R 'Pack To Go', 2 Tier 1.4L Lunch Box with steel interior – White
Take a moment to put your family first by packing food for them everyday instead of using disposable single-serve containers. Not only are La gourmet® Lunch Boxes 100% Hygienic and BPA Free but you will also be helping the Earth by conserving its resources and reducing waste.
BENEFITS
*Healthy and safe for food contact use.
*Keeps food warmer/colder longer.
*Extra protection from heat/cold when handling the container.
*No misting on the exterior wall.
*Airtight and leak proof lid with inbuilt rubber ring and pressure release valve
*Durable and reusable.
*Note: This is not Thermal Insulated.
USE & CARE
*Before first use please clean with warm soapy water, rinse and leave open to air dry.
*Do not immerse in water.
*Do not put over open flame.
*Not microwavable
Available while stock last. Promotion valid now till 7 March 2014.
Click the link to view the item details–> http://goo.gl/EDP8K7