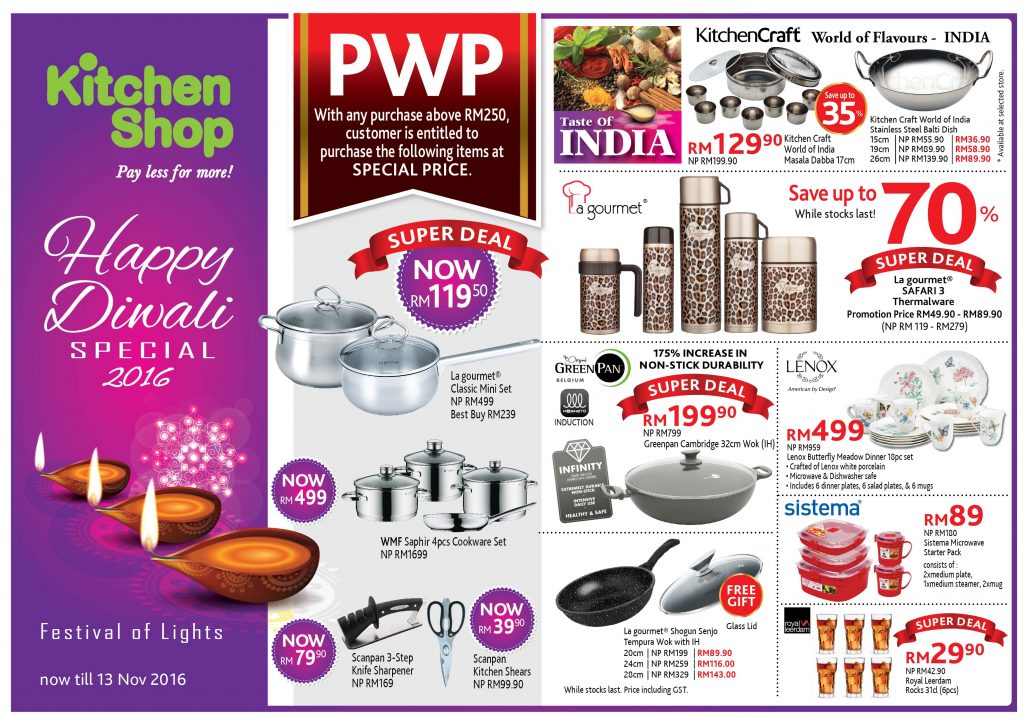 Save Up To 70% – Kitchen Shop – Pay Less For More – Happy Diwali Special 2016 Promotion – Now Till 13 Nov 2016
Super Deal
==========
Greenpan Cambridge 32cm Wok Induction
Greenpan Cambridge pan with non-stick coating Black Infinity Thermolon Infinity ceramic reinforced with diamond particles, Magneto induction technology and bakelite handle.
Manufactured without PFOA, contains no lead or cadmium. The Thermolon coating is healthy, safe and does not contain any toxic chemicals or persistent pollutants. The coating is heat resistant up to high temperatures. This means that GreenPan has a safety feature. If you accidentally overheat your pan, even up to 450 degreeC no toxic fumes will be released and the coating itself will not blister or peel. Thermolon is also a better heat conductor than traditional coatings. This results in superb searing and crispy frying.
Pot and frypan handles come in stay-cool bakelite or oven safe stainless steel varieties. By using the latest welding and polishing techniques we bring ergonomically designed handles that are strongly fitted to the pan. High quality rivets, screws and bonding techniques assure a safe and comfortable grip.
GreenPan products come in different high-end materials and shapes. The design and construction provide stability and perfect heat transfer to your cooking utensil.
We also ensure to create an extra thick base which is beneficial for the heat distribution. To make our aluminium cookware induction compatible, we forget the induction plates on the cooking base instead of pressing them, which results in a much stronger technique.
Available at all Kitchen Shop Outlet Except East Malaysia –> Click HERE to find our nearest Kitchen Shop Outlet to you.