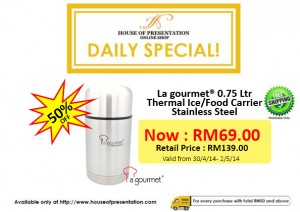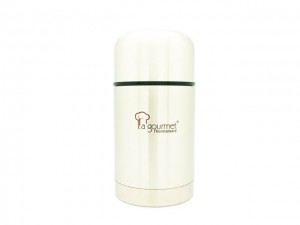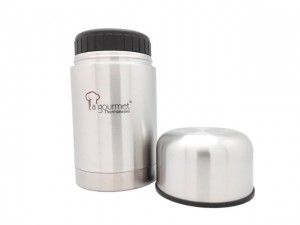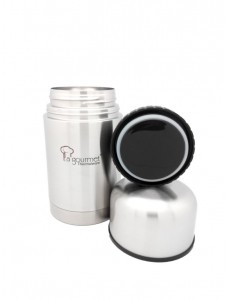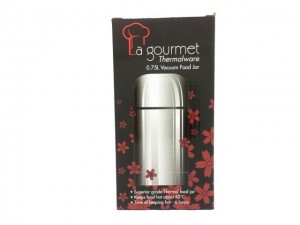 50% OFF – Daily Deal -La gourmet® 0.75 Ltr Thermal Ice/Food Carrier Stainless Steel – Valid From 30 – 2 May 2014.
Manufactured with stainless steel welding and technique of high grade SUS 304/18/8 stainless steel. Superior grade Thermal food jar .Keeps the food hot about 62°c.Time of keeping hot or cold approximately 6hours.
Features :
– Unbreakable SUS 304/18/8 stainless steel from Japan.
– Vacuum flask of superior quality, finishing and performance.
– One touch stopper easy to use, easy to pour.
– Keep hot or cold approximately 6hours.
Cleaning the interior and exterior :
– After each use , clean the interior with a mixture of water and mild dish washing liquid and rinse out thoroughy.
– Remove food and soup deposit with cleaning agents eg. a mixture of hot water and vinegar / lemon juice or baking powder. Fill the jar with the solution and leave to soak for several hours, empty and rinse out thoroughly.
– Wipe exterior with a damp soft cloth and polish with dry cloth.
– Do not immerse the whole jar in water.
– Store jar with stopper and cup removed to get airing.
– For ease of cleaning interior, use a long brush with foam head.
– Do not boil or immerse the inner stopper in water, wash , rinse and air it.
Use and Care :
– Don't mix cold food and hot food.
– In order to keep hot / cold longer, Please preheat or precold inner parts for 2-3 minutes before using.
– Can use to contain ice , herbal soup, rice etc.
– The contents of the vacuum food jar should only just reach the neck i.e. the liquid level should be approx. 2-3cm below the spout. This enables optimum insulation, whilst leaving and air gap between the liquid and the lid of the jar. This would also avoid contents in overflowing.
* DO NOT HEAT DIRECTLY ON FIRE.
Guarantee: 3 years . Spare parts and misuse of the vacuum flask will not fall under the guarantee.
A brand from U.S.A
Click HERE to purhcase from our online store houseofpresentation.com .