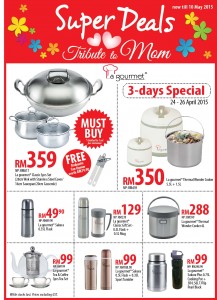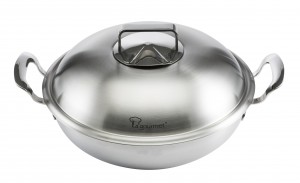 Up to 60% OFF – La gourmet Super Deals Tribute To Mom Promotion – 3 Days Special From 24- 26 April 2015 
Must buy Item
La gourmet Classic 3pcs Set – 28cm 5ply 18/10 Stainless Steel Wok with Stainless Steel Cover – 16cm Saucepan – 20cm Casserole – Free Brabantia Can Opener Worth Rm79.90
Why Buy La gourmet  28cm 5 ply 18/10 Wok Stainless Steel Wok with Stainless Steel Cover
Since its inception La gourmet® was built on the twin core principles of 'Conserve Energy' & 'Healthy Living'. La gourmet® gives you the ASSURANCE OF SAFETY & the GUARANTEE
of a finely crafted cookware that provides both convenience and healthy cooking.
La gourmet® aims to provide innovative products that are
. Functional
. Energy Saving
. Eco Friendly
BENEFITS OF LA GOURMET® COOKWARE
HEALTHY
18/10 Stainless Steel is one of the most hygienic and safe materials to cook on. Most surgical instruments are made of the same material as it is NON-REACTIVE and NON-POROUS. It does not corrode when it comes into contact with acidic ingredients such as lemon juice, wine,
vinegar nor does it give an off taste to foods
DURABLE & BEAUTIFUL
La gourmet® stainless steel is durable, resists scratches and dents and holds its shine even after years of use.
EASE OF MIND
The La gourmet® Elite Wok comes with a 10 year warranty. This is La gourmet®'s assurance and commitment to our customers on the quality of our products.
ECO-FRIENDLY
La gourmet® Elite Wok excellent heat transmission properties enables fast even heat distribution over the entire body of the cookware. This saves both energy and time.
PRESERVE NUTRIENTS & VITAMINS
Thanks to the lower heat needed when cooking with the La gourmet® Elite Wok, the nutritional value of your ingredients and it's natural flavours and sweetness are preserved without needing added seasoning.
COOL TO THE TOUCH HANDLES
State of the art Bakelite materials ensure that you will never accidentally burn your hands again accidentally holding a hot handle or knob.
REPLACEABLE KNOBS & HANDLES
This ensures that your La gourmet® Elite Wok can last even longer.
STICK & BURN RESISTANT
The special 5-Ply base (18/10 Stainless Steel, 1145 Pure Aluminium, 3004 Aluminium Alloy, 1145 Pure Aluminium, 18/10 Stainless Steel) provides good conduction and stick resistance i.e. food does not stick onto the cookware easily. This makes cleaning and cooking much easier.
VERSATILE
Suitable for all cooking methods and safe for any ingredients. (Except for baking chicken fully coated with lots of salt. Salt is corrosive and baking with it on stainless steel will cause pitting on the surface of the wok.
INDUCTION READY
Suitable for Induction Stoves
. Hygienic & Safe To Use
. Sustainable
. Versatil
Only available at La gourmet outlet .
La gourmet® Ikano Power Centre
LG 37 LG Floor, Ikano Power Centre
No 2 Jalan PJU 7/2, Mutiara Damansara
47800 Petaling Jaya
Tel: 03-7732 5511
Operating Hours: Daily 10am – 10pm
GPS Coordinate : 3.15596,101.61132