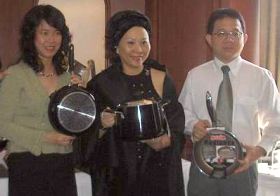 Making a difference: (from left) Lily Go, Katrin BJ managing director Jean Yeap and Blansius Bajang showing the Maxim Radiance cookware.
IN ITS continuous efforts to help people cook food of the best quality, DuPont, producer of non-stick coating Teflon, has created Teflon Radiance.
This coating is used in the newest Maxim cookware range from Maspion – Maxim Radiance.
DuPont market development manager for Asean region Blansius Bajang said the Teflon with radiance technology was a non-stick coating using a three-layer system specially formulated to conduct heat quickly and evenly throughout the surface of cookware, eliminating hotspots during the process.
"As a result, food can be cooked evenly and without worry. The improved heat distribution and retention also means that less energy is used. Moreover, the surface is scratch-proof," he said at the launch of the cookware in Kuala Lumpur recently.
PT Maspion brand manager Lily Go added that the cookware would make cooking easier and more enjoyable because the coating was scratch-resistant, easy to clean and durable.
"Busy housewives will find cooking with Maxim Radiance an exciting new experience," she said.
This article can also be found on The Star Online at this link.