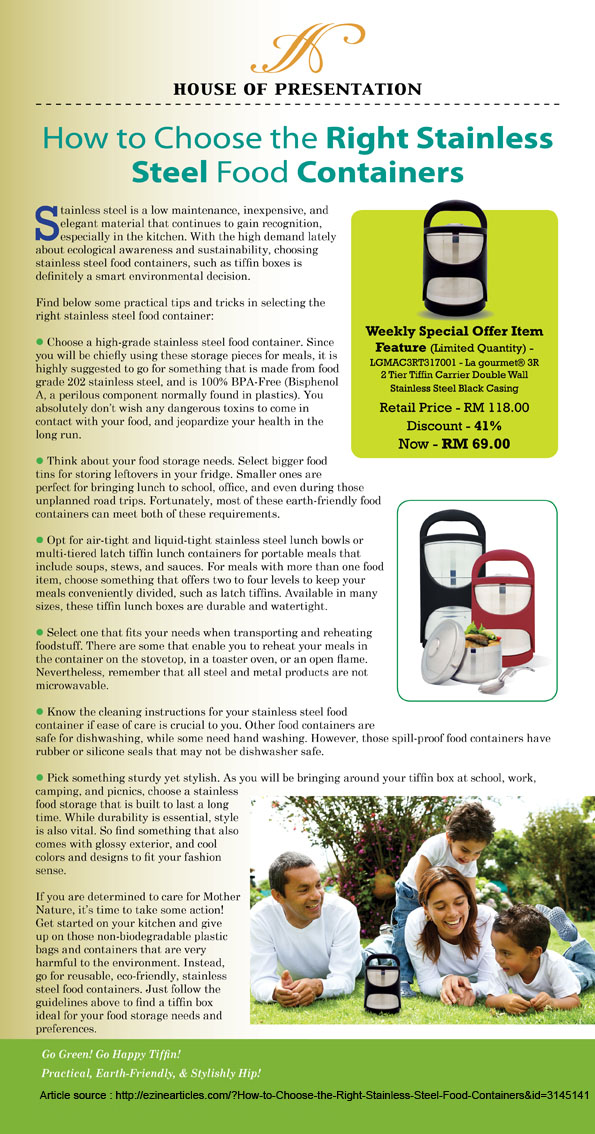 Stainless steel is a low maintenance, inexpensive, and elegant material that continues to gain recognition, especially in the kitchen. With the high demand lately about ecological awareness and sustainability, choosing stainless steel food containers, such as tiffin boxes is definitely a smart environmental decision.
Find below some practical tips and tricks in selecting the right stainless steel food container:
o Choose a high-grade stainless steel food container. Since you will be chiefly using these storage pieces for meals, it is highly suggested to go for something that is made from food grade 202 stainless steel, and is 100% BPA-Free (Bisphenol A, a perilous component normally found in plastics). You absolutely don't wish any dangerous toxins to come in contact with your food, and jeopardize your health in the long run.
o Think about your food storage needs. Select bigger food tins for storing leftovers in your fridge. Smaller ones are perfect for bringing lunch to school, office, and even during those unplanned road trips. Fortunately, most of these earth-friendly food containers can meet both of these requirements.
o Opt for air-tight and liquid-tight stainless steel lunch bowls or multi-tiered latch tiffin lunch containers for portable meals that include soups, stews, and sauces. For meals with more than one food item, choose something that offers two to four levels to keep your meals conveniently divided, such as latch tiffins. Available in many sizes, these tiffin lunch boxes are durable and watertight.
o Select one that fits your needs when transporting and reheating foodstuff. There are some that enable you to reheat your meals in the container on the stovetop, in a toaster oven, or an open flame. Nevertheless, remember that all steel and metal products are not microwavable.
o Know the cleaning instructions for your stainless steel food container if ease of care is crucial to you. Other food containers are safe for dishwashing, while some need hand washing. However, those spill-proof food containers have rubber or silicone seals that may not be dishwasher safe.
o Pick something sturdy yet stylish. As you will be bringing around your tiffin box at school, work, camping, and picnics, choose a stainless food storage that is built to last a long time. While durability is essential, style is also vital. So find something that also comes with glossy exterior, and cool colors and designs to fit your fashion sense.
If you are determined to care for Mother Nature, it's time to take some action! Get started on your kitchen and give up on those non-biodegradable plastic bags and containers that are very harmful to the environment. Instead, go for reusable, eco-friendly, stainless steel food containers. Just follow the guidelines above to find a tiffin box ideal for your food storage needs and preferences.
Go Green! Go Happy Tiffin!
Practical, Earth-Friendly, & Stylishly Hip!
Article Source:  http://ezinearticles.com/?How-to-Choose-the-Right-Stainless-Steel-Food-Containers&id=3145141
Special Weekly Offer on La gourmet Stainless Steel Tiffin Carriers Available Here!