IF you're inspired by these stories or your own experiences and would like to consider getting a grill of your own, there are several things to look at before putting your money down.
According to BBQ King retail executive Wilfred Joseph, the first question to ask is how many people you would be hosting at any given time.
This will help determine the size of the grill, he says, noting that bigger parties will require larger cooking surfaces. "You don't really want your guests to wait two hours for their food," he chuckles.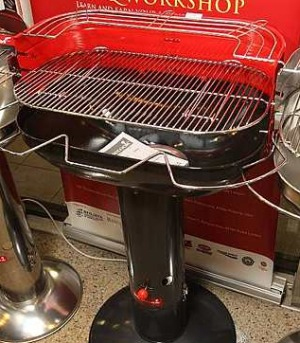 The right choice: It's important to choose a grill that meets your needs and budget.
As a general guide, says Joseph, a 43cm grill can serve five to 10 guests, while the 50cm ones will easily accommodate parties with more than 10 people. As to whether rectangular or round grills are better, he believes it's a matter of preference and doesn't make much of a difference.
The next thing to consider is space. For example, do you live in a bungalow, semi-detached house or an apartment? If there is ample space in your garden, for example, it is possible to get a larger unit.
And once you've nailed down those considerations, think about how much you can spare for a grill. From the satay grills that cost less than RM50 to the top-of-the-range RM41,000 model with granite top counter, the options are not exactly limited.
"If you're looking for a 'short-term' use – occasional or single-time – it's really not necessary to spend RM2,000 to RM3,000 for a barbecue set," Joseph says. However, he cautions that people should not be lured by cheap prices.
Group managing director of Katrin BJ Sdn Bhd (owners of BBQ King) M.H. Basri chips in: "The advantage of a well-known and international brand is that they have invested a lot in product design."
Most of these products, he says, have been sent for third-party inspections and have attained certifications such as the CE Mark (a European standard for meeting consumer safety, health and environmental requirements).
Basri stresses that this is a very important factor because at the end of the day, the end users are dealing with fire, regardless of whether it is produced by electricity, gas, or charcoal.
"Some of the sets that are being sold at hypermarkets can actually be considered 'disposable'," he says, noting that these are made of low-cost and thin materials. "Some even have sharp edges, which makes it very unsafe for families and children."
One final thing to consider is if you'd like a charcoal or gas grill. The advantages of the former, according to enthusiasts, include the irreplaceable charred, smoky taste.
Gas grills, meanwhile, can be operated without the hassle of starting a live fire. This means you won't have to fan or stoke the fire or run into the challenge of having your charcoal fire die on you. It is also possible to add certain flavors by adding wood chips.
http://thestar.com.my/metro/story.asp?file=/2010/12/5/sundaymetro/7547971&sec=sundaymetro