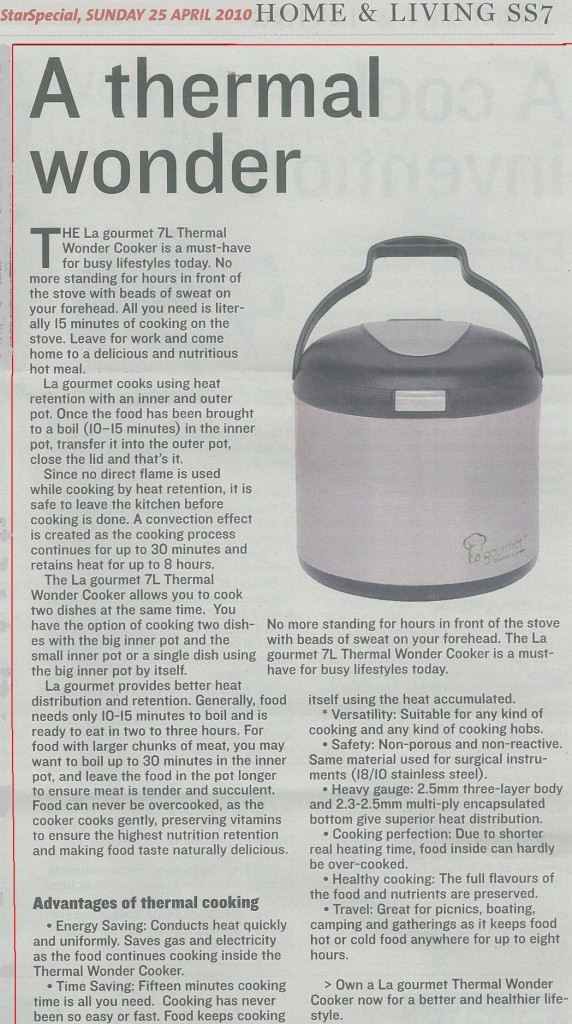 A thermal wonder
The La gourmet 7L Thermal Wonder Cooker is a must-have for busy lifestyles today. No more standing for hours in front of the stove with beads of sweat on your forehead. All you need is literally 15 minutes of cooking on the stove. Leave for work and come home to a delicious and nutritious hot meal.
La gourmet cooks using heat retention with an inner and outer pot. Once the food has been brought to a boil (10-15 minutes) in the inner pot, transfer it into the outer pot, close the lid and that's it.
Since no direct flame is used while cooking by heat retention, it is safe to leave the kitchen before cooking is done. A convection effect is created as the cooking process continues for up to 30 minutes and retains heat for up to 8 hours.
The La gourmet 7L Thermal Wonder Cooker allows you to cook two dishes at the same time. You have the option of cooking two dishes with the big inner pot and the small inner pot or a single dish using the big inner pot by itself.
La gourmet provides better heat distribution and retention. Generally, food needs only 10-15 minutes to boil and is ready to eat in two to three hours. For food with larger chunks of meat, you may want to boil up to 30 minutes in the inner pot, and leave the food in the pot longer to ensure meat is tender and succulent. Food can never be overcooked, as the cooker cooks gently, preserving vitamins to ensure the highest nutrition retention and making food taste naturally delicious.
Advantages of thermal cooking
1. Energy Saving: Conducts heat quickly and uniformly. Saves gas and electricity as the food continues cooking inside the Thermal Wonder Cooker.
2. Time Saving: Fifteen minutes cooking time is all you need. Cooking has never been so easy or fast. Food keeps cooking itself using the heat accumulated.
3. Versatility: Suitable for any kind of cooking and any kind of cooking hobs.
4. Safety: Non-porous and non-reactive. Same material used for surgical instruments (18/10 stainless steel).
5. Heavy gauge: 2.5mm three-layer body and 2.3-2.5mm multi-ply encapsulated bottom give superior heat distribution.
6. Cooking perfection: Due to shorter real heating time, food inside can hardly be over-cooked.
7. Healthy cooking: The full flavours of the food and nutrients are preserved.
8. Travel: Great for picnics, boating, camping and gatherings as it keeps food hot or cold food anywhere for up to eight hours
> Own a La gourmet Thermal Wonder Cooker now for a better and healthier lifestyle