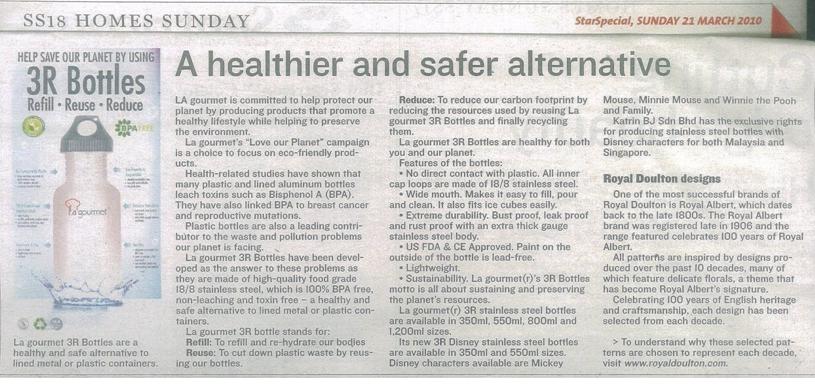 The Star Newspaper – (Sunday 21st March 2010) – A Healthier And Safer Alternative – Featuring La Gourmet (BPA Free) Stainless Steel 3R Bottles
La Gourmet is committed to help protect our planet by producing products that promote a healthy lifestyle while helping to preserve the environment. La Gourmet's "Love our Planet" campaign is a choice to focus on eco-friendly products, see the XT reviews below. Health-related studies have shown that many plastics and lined aluminium bottles leach toxins such as Bisphenol A (BPA). They have also linked BPA to breast cancer and reproductive mutations.
Plastic bottles are also a leading contributor to the waste and pollution problems our planet is facing. La Gourmet 3R Bottles have been developed as the answer to these problems as they are made of high-quality food grade 18/8 stainless steel, which is 100% BPA free, non-leaching and toxin free – a healthy and safe alternative to lined metal or plastic containers.
La Gourmet 3R bottles stand for:
Refill: To refill and re-hydrate our bodies
Reuse: To cut down plastic waste by reusing our bottles.
Reduce: To reduce our carbon footprint by reducing the resources used by reusing La Gourmet 3R bottles and finally recycling them.
La Gourmet 3R Bottles are healthy for both you and our planet.
Features of the bottles:
No direct contact with plastic. All inner cap loops are made of 18/8 stainless steel.
Wide mouth. Makes it easy to fill, pour and clean. It also fits ice cubes easily.
Extreme durability. Bust proof, leak proof and rust proof with an extra thick gauge stainless steel body.
US FDA & CE Approved. Paint on the outside of the bottle is lead-free.
Lightweight
Sustainability – La Gourmet's 3R Bottles motto is all about sustaining and preserving the planet's resources.
La Gourmet® 3R stainless steel bottles are available in 350ml, 500ml, 800ml and 1200ml sizes. It's new 3R Disney stainless steel ottles are available in 350ml and 550ml sizes. Disney characters available are Mickey Mouse, Minnie Mouse and Winnie the Pooh and Family.
Katrin BJ Sdn Bhd has the exclusive rights for producing stainless steel bottles with Disney characters for both Malaysia and Singapore.
Royal Doulton Designs
One of the most successful brands of Royal Doulton is Royal Albert, which dates back to the late 1800s. The Royal Albert brand was registered late in 1906 and the range featured celebrates 100 years of Royal Albert. All patterns are inspired by designs produced over the past 10 decades, many of which feature delicate florals, a theme that has become Royal Albert's signature. Celebrating 100 years of English heritage and craftsmanship, each design has been selected from each decade. To understand why there selected patterns are chosen to represent each decade, visit www.royaldoulton.com