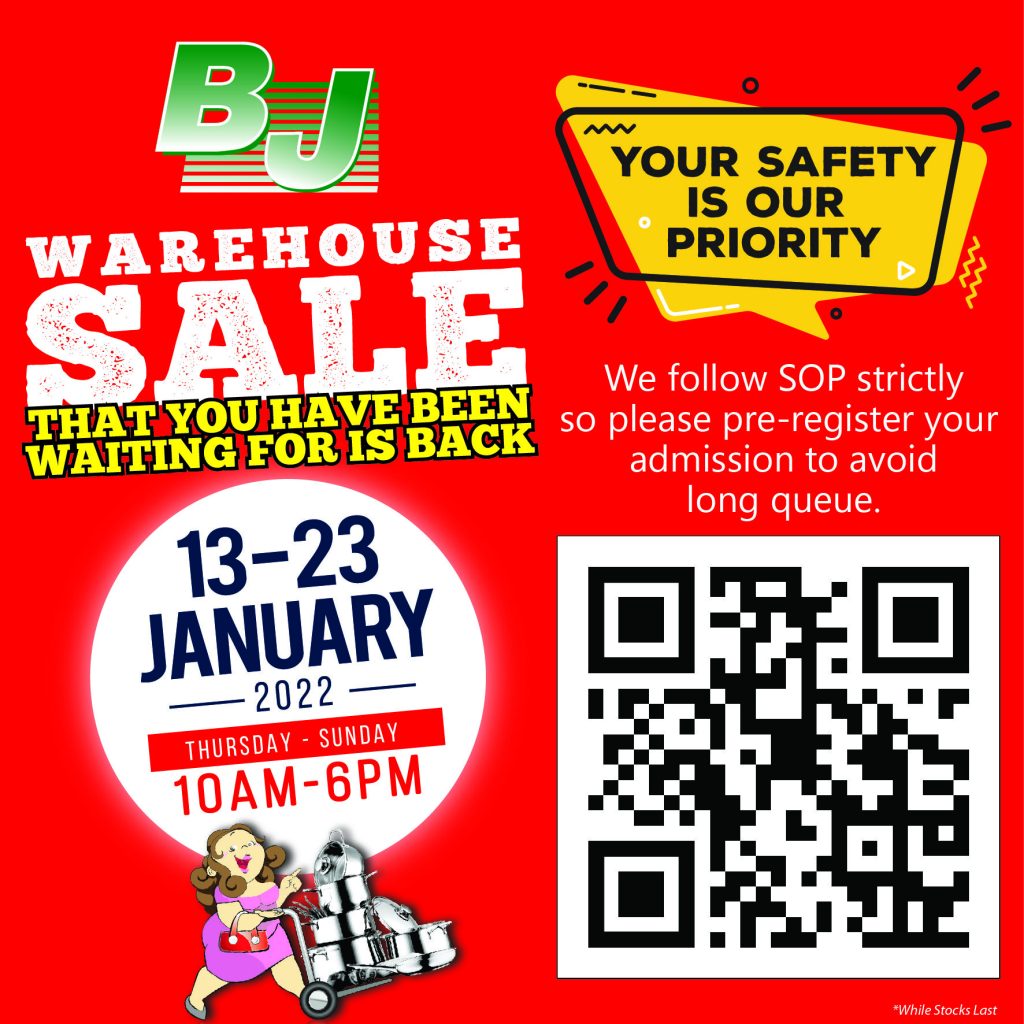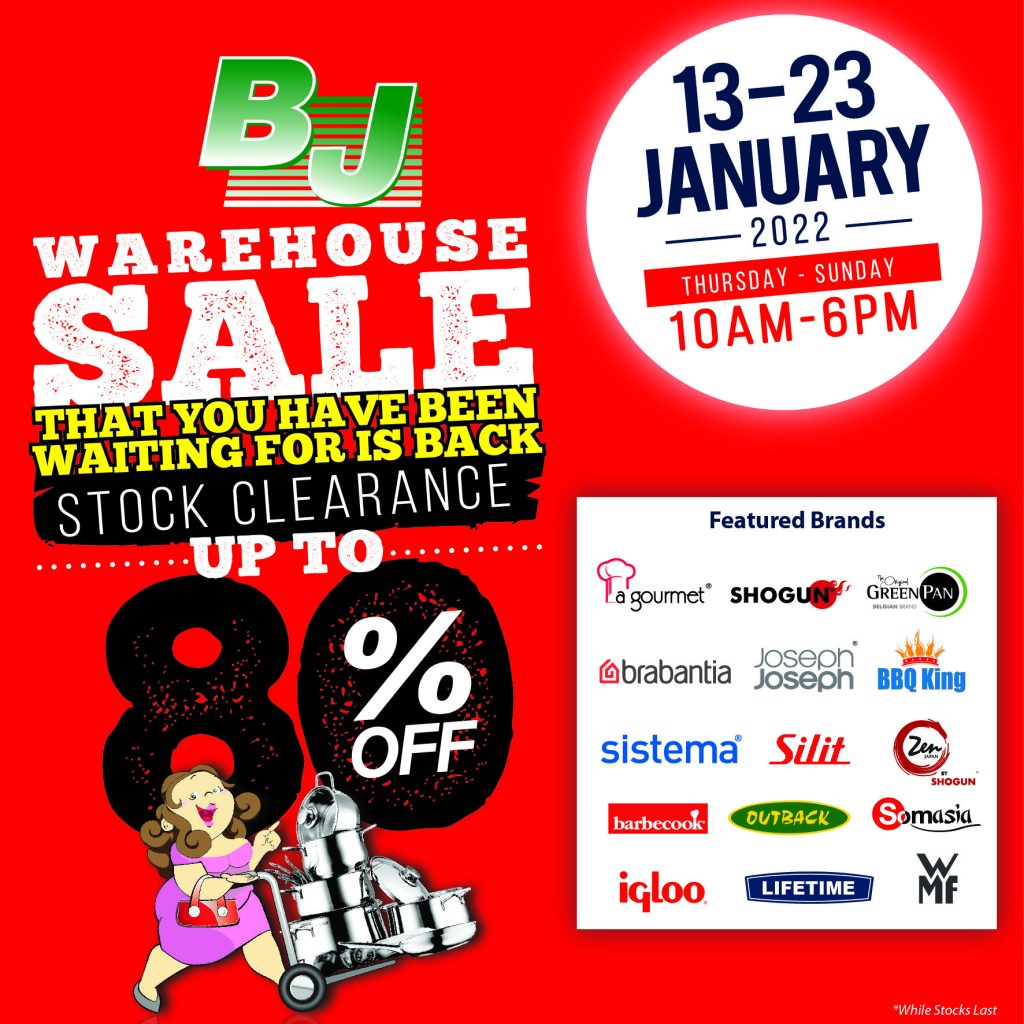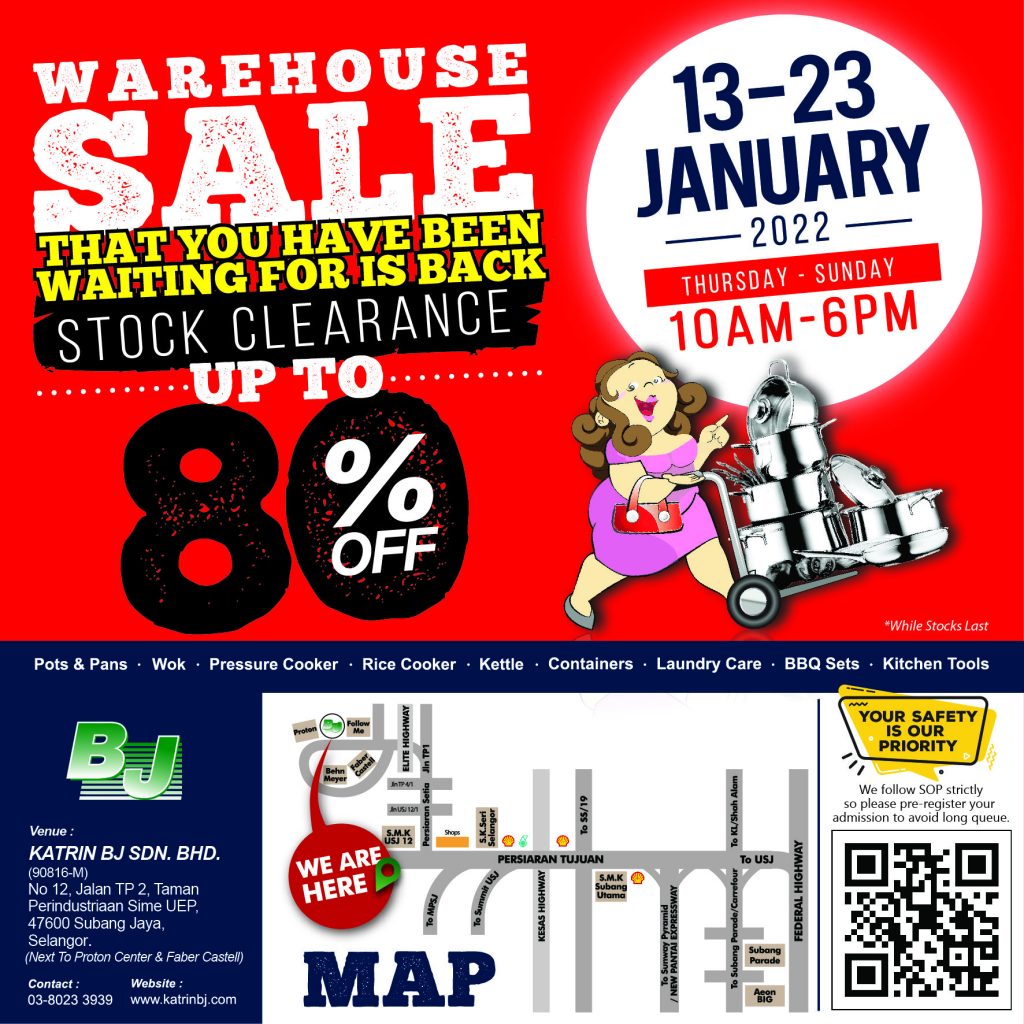 It's time to spring-clean our warehouse to make way for more good stuff, so come on over and join in the fun at our 𝐰𝐚𝐫𝐞𝐡𝐨𝐮𝐬𝐞 𝐜𝐥𝐞𝐚𝐫𝐚𝐧𝐜𝐞!🙌
From cookware, kitchen tools, food storage to electrical appliances🔌, you can be sure to find something that you need at unbelievable price too at the 𝗞𝗔𝗧𝗥𝗜𝗡 𝗕𝗝 𝗪𝗔𝗥𝗘𝗛𝗢𝗨𝗦𝗘 𝗖𝗟𝗘𝗔𝗥𝗔𝗡𝗖𝗘 𝟭𝟯 – 𝟮𝟯 𝗝𝗔𝗡𝗨𝗔𝗥𝗬 𝟮𝟬𝟮𝟮. Be sure to join us to grab the good stuff at great prices! 𝗙𝗜𝗥𝗦𝗧 𝗖𝗢𝗠𝗘 𝗙𝗜𝗥𝗦𝗧 𝗦𝗘𝗥𝗩𝗘 𝗕𝗔𝗦𝗜𝗦 & 𝗪𝗛𝗜𝗟𝗘 𝗦𝗧𝗢𝗖𝗞𝗦 𝗟𝗔𝗦𝗧.
Only 𝟮𝟬 𝘀𝗵𝗼𝗽𝗽𝗲𝗿𝘀 are allowed 𝗽𝗲𝗿 𝘀𝗲𝘀𝘀𝗶𝗼𝗻,so do 𝗽𝗿𝗲-𝗿𝗲𝗴𝗶𝘀𝘁𝗲𝗿 your admission to avoid disappointment or long queue.
𝗖𝗹𝗶𝗰𝗸 𝘁𝗼 𝗿𝗲𝗴𝗶𝘀𝘁𝗲𝗿
👉 https://kbjwarehousesale.eventbrite.sg
𝘗𝘴𝘴𝘵… and one more thing, 𝘞𝘢𝘳𝘦𝘩𝘰𝘶𝘴𝘦 𝘊𝘭𝘦𝘢𝘳𝘢𝘯𝘤𝘦 𝘴𝘦𝘮𝘦𝘮𝘢𝘯𝘨𝘯𝘺𝘢 𝘣𝘦𝘴𝘵, 𝘵𝘢𝘱𝘪 𝘚𝘖𝘗 𝘫𝘢𝘯𝘨𝘢𝘯 𝘥𝘪𝘭𝘶𝘱𝘢! Your safety is our priority so let's do our part in keeping ourselves and others safe 😉
How to get to the Katrin BJ Warehouse Clearance?
Click https://goo.gl/maps/LbHe61wmkiq3S2Di9