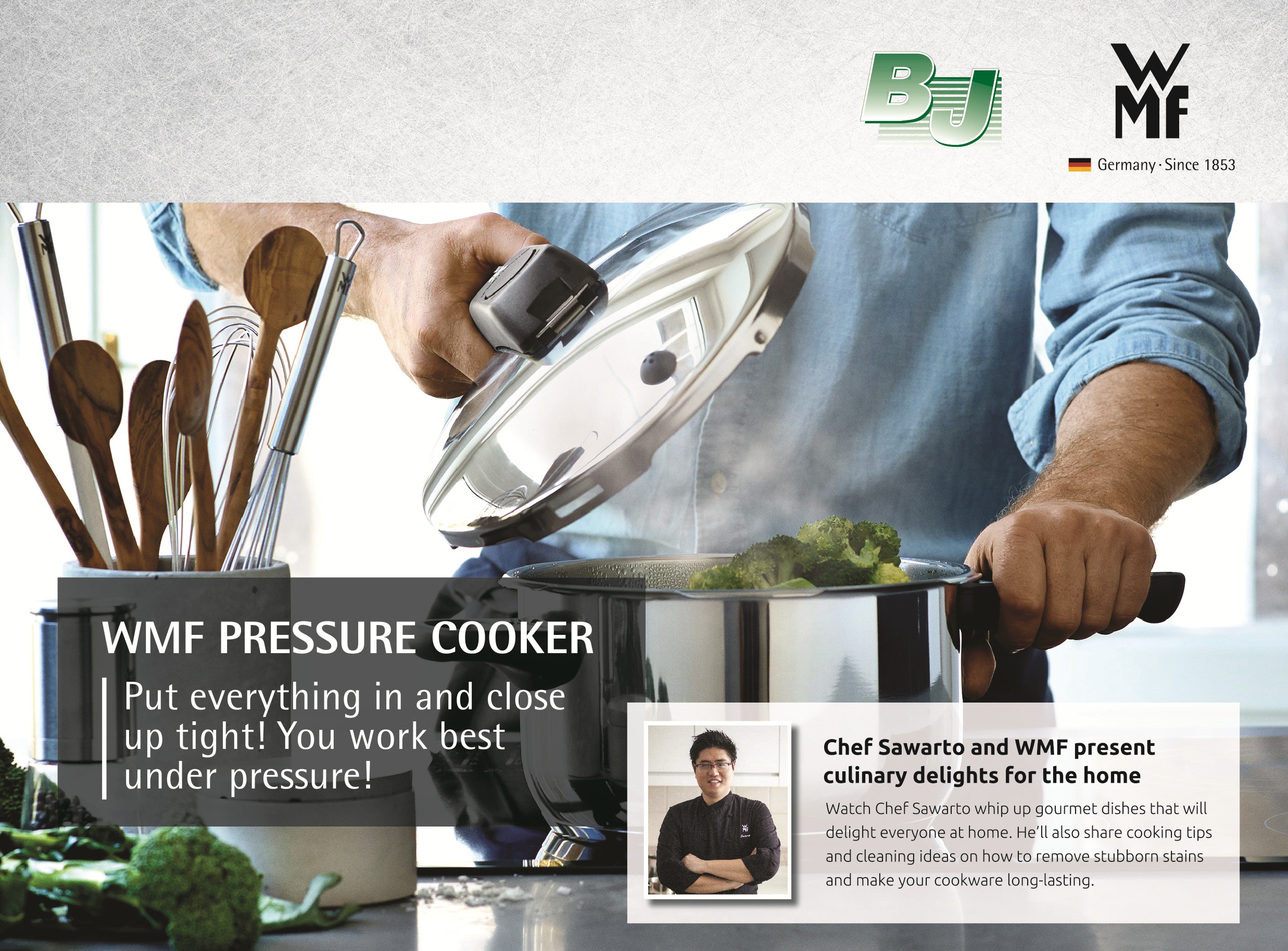 WMF Cooking Demo with Chef Sawarto – 7 Sep 2017 – Robinson The Gardens Mall , Mid Valley City , Kuala Lumpur
About Chef Sawarto 
Born in Indonesia, raised in Singapore and cooked the world over, Sawarto is exposed to a great variety of exotic ingredients, flavors and textures. Graduated from the prestigious Le Cordon Blue Culinary Institute, Paris and trained with Michelin starred chefs Christophe Bacquie, Loris Pistillo, Eyvind Hellstrom, Shawn Amstrong. Clientele ranging from top notch MNC to high net-worth Individuals, socialites & celebrities (and even Singapore's President, Prime Minister and Xi Jinping!)
Cookware Collection 
Our range for cooking, roasting, simmering, steaming … is so versatile that they are ideal for anyone starting to equip a household just as for large families . All cookwares are made of the best materials with first class workmanship . The functionality is tested and the quality convinces even professional chefs.
WMF Pressure Cooker
Perfect plus combines tried and tested technology with modern design . Only a few steps are needed to operate it. The rings on the clear cooking indicator display two cooking levels and the residual steam safety feature.All the technology is located in the handle which is easily removed for cleaning.
Date : 7 September 2017 ( Thursday )
Time : 7pm – 8 pm
Venue : Robinsons The Garden Mall, Mid Valley City , Kuala Lumpur
Expected Demo Menu : Imperial Soup, Chicken & Oyster – Summer Truffle Mushroom Stew , Olive Infused Fried Rice with Garlic Prawns , Seafood Omelette with Chicken Floss, Desserts .
This is a close door event exclusive to Robinson Card Member. Kindly RSVP by 6 September 2017 to Reyna Chung at [email protected], 03-8023 3939